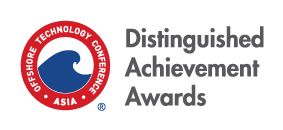 The OTC Asia Distinguished Achievement Awards, modelled after the prestigious awards at the Offshore Technology Conference's (OTC), recognise major technological, humanitarian, environmental, and leadership contributions to the industry.

The nomination deadline for the OTC Asia 2022 Distinguished Achievement Awards has passed. Award recipients will be announced in January 2022.

Learn about the past award recipients here or view frequently asked questions here.